Dream Center West Bund–Project Showroom
行业类型:
商业地产
实践类型:
展览设计
编辑设计
环境图形设计
SECTOR:
Commercial Real Estate
PRACTICE AREA:
Exhibition Design
Editorial Design
Environmental Graphics
---
「西岸梦中心」是位于上海西岸黄浦江畔的新地块单元(在建),以「全球滨水地标,开放呼吸空间」为使命,以「文化娱乐目的地」、「一店一美术馆」、「工业文化遗存的重生」和 「7x24城市微旅区 」为空间理念,该项目旨在成为「全球滨水旅行目的地」。

Dream Center West Bund is a new site unit (under construction) located along the Huangpu River on the West Bund of Shanghai, with "Global Waterfront Landmark, Open Breathing Space" as its mission, and "Cultural and Entertainment Destination", "One Store, One Art Museum", "Celebration of the Industrial Heritage" and "7x24 Urban City Walk Block" as its spatial concept. The Project is aiming to become "a global waterfront travel destination."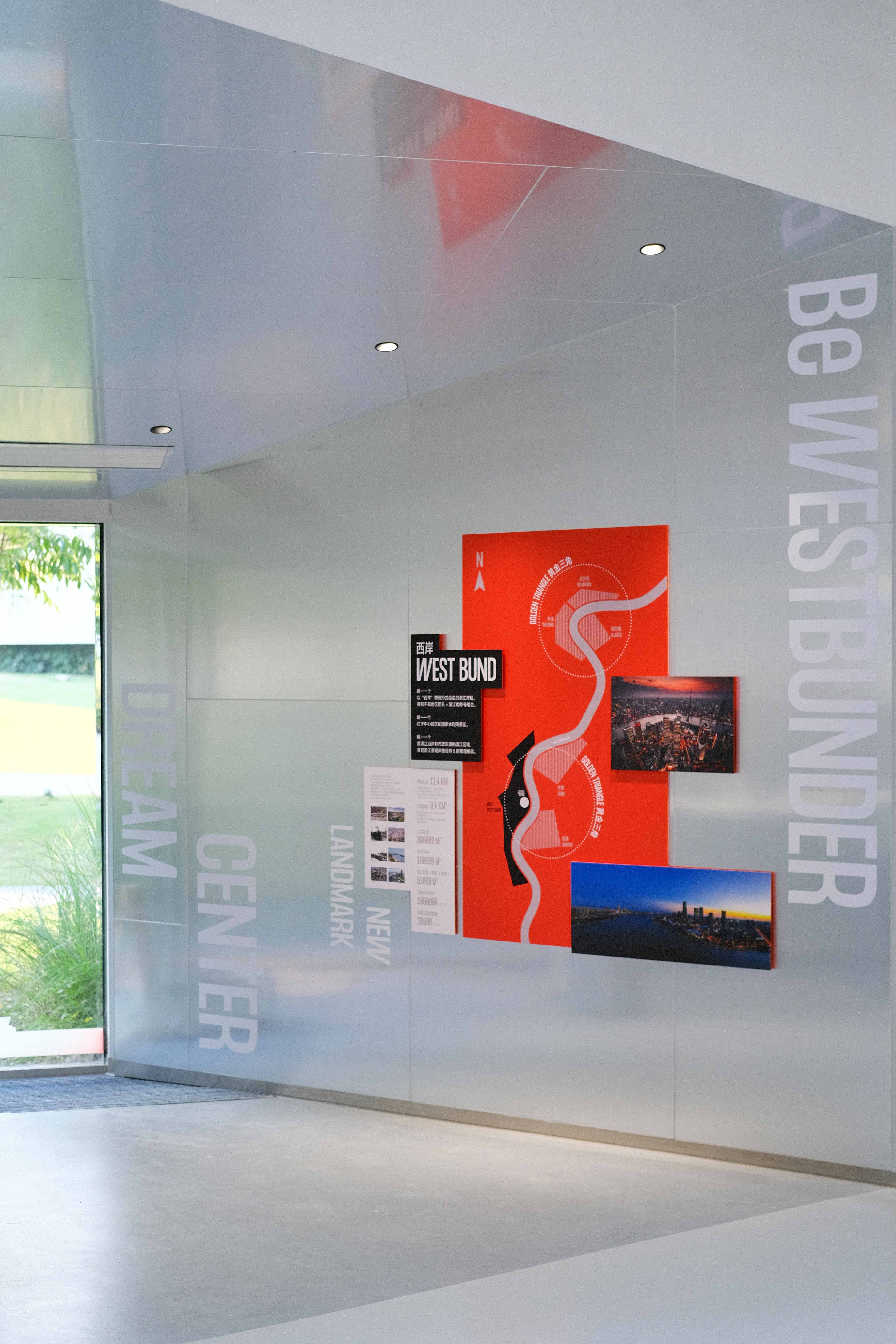 为了在项目建设期间对外展示项目的未来样貌、洽谈商业合作、提供项目团队日常办公需求,位于项目北侧一处小型的外立面通体为反光镜面的公共建筑被改造成为项目展厅。延续建筑外观的风格,其空间内部也使用了大量或反光或哑光的不同肌理质感的银色材质,通过结构化的设计将展厅内部空间划分为功能模块清晰的不同部分。

In order to show the future appearance of the project, negotiate business cooperation and provide the daily office needs of the project team during the construction period, a small public building with reflective mirrored facade on the north side of the project was transformed into a project showroom. Continuing the style of the exterior of the building, the interior of the space also applies a large number of silver materials with different textures, either reflective or matte, and the interior of the showroom is divided into different parts with clear functional modules through a structured design language.






Pocca 受「西岸梦中心」的委托,为这个新装修落成的项目展厅进行视觉信息与展陈设计。在这个项目中,由于截止到委托开始前,项目的品牌视觉识别部分尚未敲定,因此在此次的设计中 Pocca 以配合展厅的整体室内设计语言作为基础——以文本内容塑造视觉形态,用过往与现实的碎片堆叠出可供想象的信息层次,将项目的历史、文化、地理、项目蓝图等相关信息融入空间,形成一个有序的整体。

Pocca was commissioned by Dream Center West Bund to design interior visual information for the newly renovated showroom. In this project, as the visual identity of the project had not been finalized by the start of the commission, Pocca used the overall interior design language of the showroom as the basis for the design – "shaping the visual form with textual content, stacking the fragments of the past and reality to create imaginable layers of information", and integrating the urban history, culture, geography, project blueprint, and other relevant information into the space, forming an ordered whole.




通过这种方式,不同层级、属性、类型的文本与图片信息被拆分后放在不同尺寸和形状的悬浮的版面上,又组合成一个个的信息模块,依照浏览顺序依次设置在空间的不同区域。整体的色彩上,延续了展厅黑白灰+橙色的设定,未避免大面积的橙色所导致的视觉疲劳,仅在所有信息版面模块侧边刷上少许橙色,在提亮阅读时的视觉感受的同时,也增加了从不同角度观看的趣味性。

In this way, text and image information of different levels, attributes and types are split and placed on suspended pages of different sizes and shapes, and then combined into individual information groups, which are set in different areas of the space in order of walking and reading. The overall color continues the "black, white and gray + orange" setting of the showroom, not to avoid the visual fatigue caused by the large area of orange, but only a little orange on the side of all the information modules, in order to brighten the visual experience when reading, but also to increase the interest of viewing from different angles in the room.